Storm hits Carnival cruise ship off Charleston, water surges into rooms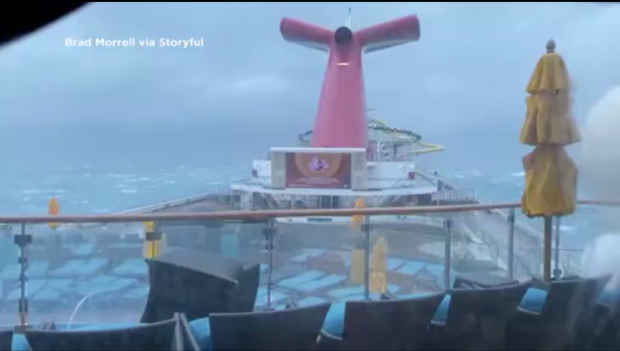 A storm off the coast of Charleston, South Carolina, battered a Carnival cruise ship for hours late Friday night before it docked, leaving passengers terrified.

Passengers aboard the Carnival Sunshine described shattered glass, water pouring into rooms and hallways, the ship pitching about and a lack of communication from cruise staff. Some passengers and crew members needed "minor assistance" from medical staff, a Carnival cruise spokesman told CBS News. "Guests on board the ship were safe," the spokesman added.

Carnival Sunshine, which was headed from the Bahamas to South Carolina, arrived in Charleston behind schedule, according to the spokesman. Some crew cabins needed to be temporarily taken out of service because of water damage. The ship's next voyage, on which it has since embarked, was also delayed.

The National Hurricane Center on Friday warned of a non-tropical area of low pressure off Florida that was set to move northward and inland over the Carolinas during the weekend. Forecasters said there would be gusty winds, dangerous surf and rip current conditions along portions of the U.S.'s southeastern coast through Sunday.

Passenger Sharon Tutrone, a professor at Coastal Carolina University, tweeted Friday that the ship was rocking. She said that the only time passengers heard from the captain was in the afternoon, when he told them he had an experienced crew and would do everything he could to minimize discomfort as the ship encountered the storm.

"They said it will get worse as we get closer to the storm," she tweeted. "@CarnivalCruise  is doing an EXCELLENT job!"

She tweeted again on Saturday afternoon, describing "14 hours of high winds, rain and massive waves."

"We were surrounded by lightning and the ship took a huge hit by a wave and sounded like it split in two," Tutrone tweeted.

Several passengers, including Brenda Goodwin Sherbert, posted on social media about broken glass on the ship. They also wrote about water coming in through balcony doors.

"We had a 40 foot wave hit our side of the ship,.. we almost fell out the bed.. things were crashing all around us and the carpet on my side of the bed was soaked bc water came in thru our balcony door," Goodwin Sherbert wrote.

Passenger Reid Overcash, who was on the cruise with his wife, said televisions on the ship displayed a message during the storm: "Public address announcement please standby."

He said it was when winds had reached between 70-90 mph and the ship was tilting left that he truly feared for his life.

"Myself being in emergency services and retired, I knew nobody was going to come and rescue us with winds over 40 knots," Overcash said.

The trip marked Overcash's seventh cruise. He said he's not going to let the frightening experience stop him from going on more cruises in the future.

"It's just one of them unlucky experiences that occurs once in a while," he said.
More about:
---