Hurricane Idalia path, timeline: When and where storm will hit Florida
August 28, 2023 12:35PM CDT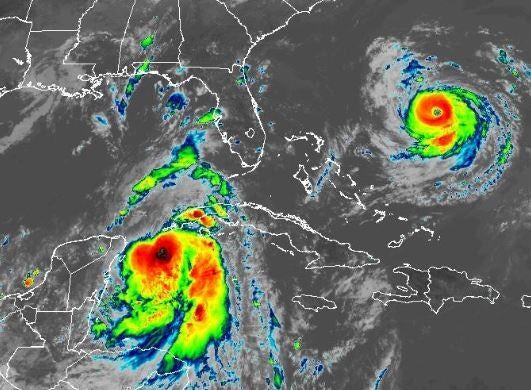 Tropical Storm Idalia
 is forecast to become a hurricane on Monday as it tracks toward the Gulf Coast of Florida, on a path that is expected to impact a wide central chunk of the state, including cities like Tampa and Orlando.
Officials have placed communities under a range of severe weather advisories, from hurricane and tropical storm warnings to storm surge watches, as Idalia gains momentum near the far western tip of Cuba. Meanwhile, Hurricane Franklin, to the east over the Atlantic, is churning on a track that's expected to skirt along the East Coast of the United States.

Florida Gov. Ron DeSantis said at a news conference Monday morning that Idalia was expected to grow into at least a Category 3 hurricane before making landfall.

Meteorologists rate hurricanes according to the Saffir-Simpson Wind Scale, categorizing storms that fall within Category 3, 4 or 5 as "major" hurricanes capable of causing "significant loss of life and damage," according to the National Hurricane Center. The category is based on a hurricane's maximum sustained wind speeds.
Where is Hurricane Idalia going to hit?
As Idalia gains strength and tracks through the Gulf of Mexico early this week, forecasters project that the storm system will make landfall along the west coast of Florida, putting communities at risk in central parts of the state and up through the panhandle.
"Idalia is now forecast to become a major hurricane before it reaches the Gulf coast of Florida," the National Weather Service tweeted on Monday morning. "The risk continues to increase for life-threatening storm surge and dangerous hurricane-force winds along portions of the west coast of Florida and the Florida Panhandle beginning as early as late Tuesday."
As the agency noted, storm surge watches and hurricane watches were in effect for large portions of the west coast of Florida and the Florida panhandle, from Sarasota County, between Fort Myers and Tampa, up to Franklin County near Tallahassee.
The weather service said coastal areas as far south as Cape Sable, in the Everglades, and the Florida Keys could see storm surges of up to two or three feet above ground level as Idalia approaches. Storm surge threats increase for coastal areas further up the coast, with meteorologists estimating potential surges of up to 11 feet for much of northwestern Florida and into the panhandle.
Storm surge is a rise in water levels caused by hurricane-force winds that push water toward shore and over areas of land that are normally dry, according to the National Oceanic and Atmospheric Administration. This phenomenon is considered the greatest threat to life during a hurricane.
Forecasters also warned that "areas of flash and urban flooding, some of which may be locally significant, are expected across portions of the west coast of Florida, the Florida Panhandle, and southern Georgia Tuesday into Wednesday, spreading into portions of the eastern Carolinas Wednesday into Thursday." A storm surge watch has been issued for parts of southern Georgia, from the mouth of the St. Mary's River at the Florida border up to the Altamaha Sound.
Parts of western Cuba could experience hurricane-force winds, heavy rain, and, potentially, flash flooding and landslides as Idalia passes the island later on Monday, the weather service said. A hurricane warning is in effect for the far western Cuban province of Pinar del Rio.
A hurricane warning means that hurricane conditions are expected somewhere within the boundaries of the warning area, while a hurricane watch means those conditions are possible, according to the National Hurricane Center. Forecasters are urging people in areas under hurricane warnings to prepare for the onset of conditions within the next 12 to 24 hours. People living in areas placed under storm surge watches should prepare for the "possibility of life-threatening inundation, from rising water moving inland from the coastline" over the next 48 hours, the hurricane center said.
When is Hurricane Idalia expected to make landfall?
Idalia is expected to make landfall along the Gulf Coast of Florida on Wednesday, Aug. 30, with officials estimating that the storm will intensify rapidly over the next 12 to 18 hours.
"We do expect Hurricane Idalia to be a major hurricane that will strike the state of Florida," DeSantis said at Monday's briefing, warning that residents living across Florida's Gulf Coast should prepare for "major impacts" tied to the oncoming storm.
The storm is forecast to develop into "dangerous major hurricane over northeastern Gulf of Mexico by early Wednesday," the National Hurricane Center said on Monday morning. Its latest storm advisory projected that Idalia will pass near or over western Cuba on Monday night before moving "over the extreme southeastern Gulf of Mexico by early Tuesday" and reaching the Gulf coast of Florida on Wednesday.
Maps of Hurricane Idalia's projected path
As of Monday morning, meteorologists have forecast a continuous northeastern path for Idalia as it grows from a tropical storm into a major hurricane, passing either near or directly over the westernmost part of Cuba on Monday night before tracking over the Gulf of Mexico toward the west coast of Florida throughout Tuesday and into Wednesday.
After making landfall along Florida's Gulf Coast, Idalia is expected to continue northeastwards over Florida, Georgia and the Carolinas on Wednesday and Thursday, decreasing in strength as it travels.
The National Hurricane Center acknowledged that the confluence of atmospheric conditions caused by Idalia's path in the Gulf and Hurricane Franklin's path in the southern Atlantic could potentially alter the latest forecasts issued Monday, as both storms continue to move and develop.
"Although the track forecast has been quite consistent, there is still some spread in the guidance by 48 hours, and it cannot be emphasized enough that only a small deviation in the track could cause a significant change Idalia's landfall location in Florida due to the paralleling track to the west coast of the state," the National Hurricane Center wrote in an advisory issued at 10 a.m. CT on Monday morning.
Will Idalia and Franklin hit Florida at the same time?
Hurricane Franklin is not expected to hit Florida, but it may cause rough surf conditions and rip currents. Officials have not issued any forecasts suggesting that Franklin will make landfall anywhere along the southeastern coast of the U.S.
Franklin had strengthened into a powerful Category 4 storm with 135 mph winds by Monday morning, when it was situated about 490 miles off the southwestern coast of Bermuda, but it is expected to weaken starting Tuesday afternoon.
Meteorologists said swells from Franklin were already affecting Bermuda on Monday and are expected to cause "life-threatening surf and rip current conditions" along the U.S. East Coast this week, including in parts of Florida.
As Idalia approaches, the National Weather Service has issued tropical storm watches and warnings for parts of eastern central Florida, including Orlando, where residents have been urged to prepare for "local tropical storm conditions by Tuesday night and into Wednesday.
An incoming "long-period swell" in the Atlantic caused by Hurricane Franklin will make the coast susceptible to "high seas, rough surf, an increase in life-threatening rip currents, and beach erosion during high tides during Tuesday and Wednesday," according to the hurricane center.
There is a possibility of strong and potentially damaging wind gusts from Idalia that could "extend well eastward from the storm's center" once it makes landfall in Florida, the weather service said. Meteorologists added that torrential downpours could also happen in eastern parts of the state, which may be subject to increasing tornado threats as well.
More about:
---